Meet Our Sports Medicine Team | Reyn Clark, PT, DPT, SCS
Posted on September 5, 2023
Reyn Clark, PT, DPT, SCS
Board-Certified Clinical Specialist of Sports Physical Therapy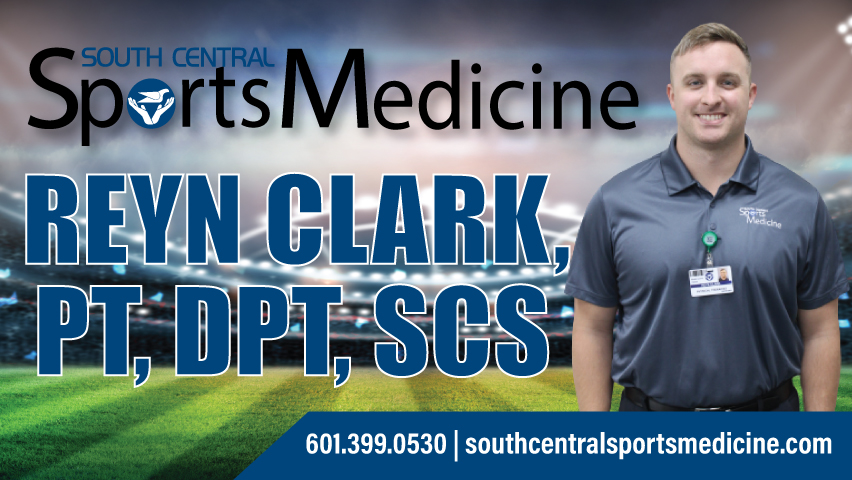 Reyn Clark received his Bachelor of Science Degree with an emphasis in biology and concentration in pre-physical therapy studies from William Carey University in 2016.  Reyn then earned his Doctorate of Physical Therapy Degree from William Carey University in 2019.
Reyn became a Board-Certified Specialist of Sports Physical therapy after completing required clinical and sports venue coverage hours and passing the American Board of Physical Therapy Specialties board exam for sports physical therapy in June 2022. Reyn also holds a specialty certification in personalized blood flow restriction (PBFR) and emergency response to the athlete (ERA). Reyn has provided physical therapy services for many professional athletes from organizations including the Indianapolis Colts, Green Bay Packers, Houston Texans, San Francisco 49ers, Detroit Lions, Cincinnati Reds, San Diego Padres, Atlanta Braves, and Chicago White Sox. Reyn has also worked with many athletes from NCAA division 1, NJCAA, and high schools for a variety of injuries and post-operative care.
Reyn has been employed with South Central Rehabilitation Services at the Wellness Center and Sports Rehabilitation and Performance Center since April 2023. His primary clinical practice includes outpatient sports and orthopaedic physical therapy.  Reyn is currently providing sport coverage for Laurel High School athletics.
For more information on therapy services, call 601-399-0534 or visit scrmc.com. For more information on the South Central Sports Medicine and Performance+ Program, call 601.399.6246 or visit SouthCentralSportsMedicine.com