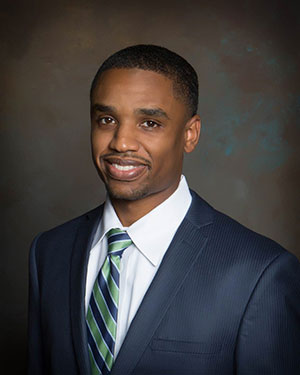 Dr. Derrick Burgess is a board certified Orthopedic Surgeon and specialist in Sports Medicine and shoulder surgery.  It was in high school that Dr. Burgess, a Muscle Shoals, Alabama native, realized his interest in orthopedics.  After suffering an injury in football, Burgess discovered a mentor that would be a catalyst for his pursuit in medicine.
After high school, he continued his education at Xavier University of Louisiana as a biology pre-med major.  After graduating summa cum laude, Dr. Burgess attended Howard University in Washington, DC for both his medical school training and orthopedic surgery residency.  Dr. Burgess is a diplomate of the American Board of Orthopaedic Surgery.
He actively participated in sports coverage for Howard University athletics and DC public schools at Coolidge High School. He subsequently completed his sports medicine specialty training under world-renowned surgeon Dr. Frank Noyes at Cincinnati SportsMedicine and Orthopaedic Center. There, he trained extensively in arthroscopic surgery of the knee, hip and shoulder, ligament reconstruction, cartilage transplantation, meniscal transplantation, osteotomies and shoulder replacement, including the reverse ball and socket arthroplasty.  He served as associate team physician for the Cincinnati Bengals as well as team physician for Milford High School.  He has also worked on the collegiate level with University of Maryland and Reinhardt University football programs.
Dr. Burgess has authored several peer reviewed articles and presented his research on national platforms including AAOS and AAPMR.
Dr. Burgess enjoys spending time with his wife, Myeasha, and their three children, Suzette, Julia and Derrick, II.  In his spare time he enjoys working out, traveling and playing golf.