Tennis elbow is a general term used to describe the overuse of forearm muscles that results in pain at the elbow. Tennis elbow is not strictly related to playing tennis. In fact, fewer than 5 percent of patients with condition actually play tennis. Tennis elbow is caused by repetitive stress on the muscles and tendons that are connected to the lateral epicondyle.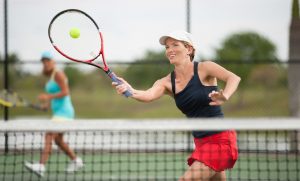 Derrick Burgess, M.D., Fellowship Trained Sports Medicine Specialist and Orthopaedic Surgeon at South Central Orthopaedics in Laurel, said, "Tennis elbow is a soreness or pain in a person's outer part of the elbow. This soreness comes from damage to tendons that connect the muscles of the forearm to the elbow. If the injury is not treated, it may hurt to do simple things, such as turn a key or open a door."
Tennis elbow effects other athletes and employees who practice repetitive arm, elbow and wrist movement. These can include: golfers, baseball players, bowlers, garden and lawn workers, jobs that require vacuuming, sweeping and scrubbing, carpenters, assembly workers and more. Over time aging appears to make tendons more prone to breakdown, therefore tennis elbow is common among women and men in the 30s to 50s.
"The diagnosis of tennis elbow generally does not require special tests" states Dr. Burgess. "Diagnosis is completed by history and physical examination. Patients may describe their type of pain, daily activities and past injuries. X-rays are not always required, yet in some cases we order an x-ray to make certain bone structures of the elbow are normal."
In most cases, surgery is not required for treatment of tennis elbow. Treatment options vary, but rest, decreased activity and stretching and strengthening exercises are helpful. Other treatment options include pain relief from icing the elbow daily, anti-inflammatory medicines, support and splints for daily activities and occasionally an injection.
"Most patients who are diagnosed with tennis elbow will improve and recover," stated Dr. Burgess. "It is important for athletes, employees and those who use repetitive arm, elbow and wrist activity, to stretch and condition the muscles to prevent injury. Returning to activities slowly and at a lesser strength level will help avoid damaging the tendon again. The best rule is to remember to be patient and continue with your treatment plan."
South Central Sports Performance+ Provides Training Techniques
South Central Sports Performance+ utilizes the latest equipment and training techniques to conduct a thorough evaluation.  Sports Performance+, part of the South Central Regional Medical Center Sports Medicine Program, helps those ages 8 and up, of all levels, to improve their athletic skills, learn techniques for preventing injury and ultimately reach their optimal athletic performance. South Central Regional Medical Center's sports medicine and performance enhancement program provides the full spectrum of care to all kinds of athletes.
Derrick Burgess, M.D., is a Fellowship Trained Sports Medicine Specialist and Orthopaedic Surgeon at South Central Orthopaedics in Laurel. He worked with the Cincinnati Bengals during his fellowship training program at the Cincinnati Sports Medicine Orthopaedic Center in Cincinnati, Ohio. He has worked with a team of athletic trainers, physical therapists and other physicians in Laurel to develop the Sports Performance+ program, which is located at the South Central Wellness Center. For more information, call 601-399-0530.