Tyler Landrum, NEJ | Scholar Athlete
Posted on September 8, 2016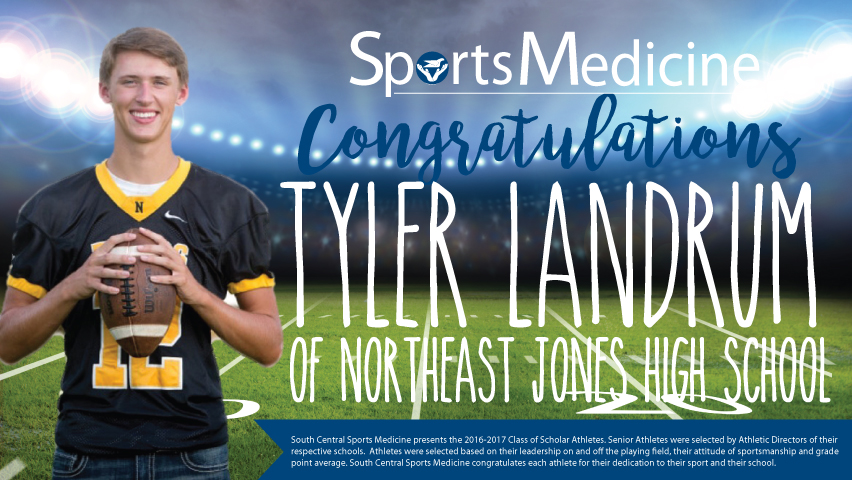 Tyler Landrum, Senior at Northeast Jones High School, was selected as a South Central Sports Medicine Scholar Athlete. Tyler plays Football and Baseball for the Northeast Jones Tigers. After Tyler graduates from Northeast Jones in May, he plans to major in Electrical Engineering at Mississippi State University.
As an athlete Tyler finds motivation by playing together as a team. "I know that my teammates are depending on me, just like I am depending on them. We work well together as a team." Tyler plans to work hard this season in football and baseball so that he may play to the best of his abilities.
Tyler was asked who has influenced his desire to excel on the playing field and classroom. He responded, "My dad is a big role model in my life. He is a good Christian man, and has taught me all I know about sports. I want to strive to have this same influence on younger athletes. Using the abilities God has given us will help us succeed in all we do."
South Central Sports Medicine presents the 2016-2017 Class of Scholar Athletes. Senior Athletes were selected by Athletic Directors of their respective schools. Athletes were selected based on their leadership on and off the playing field, their attitude of sportsmanship and grade point average. South Central Sports Medicine congratulates each athlete for their dedication to their sport and their school.