Mark Diers, South Jones High School
Posted on September 12, 2019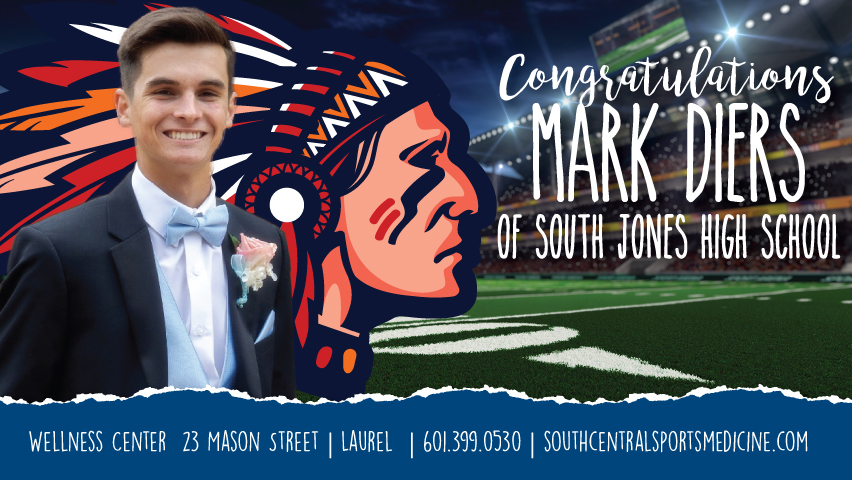 Mark Diers, Senior at South Jones High School, was selected as a South Central Sports Medicine Scholar Athlete. Mark plays soccer, baseball and football at South Jones. After graduation, Mark would like to play soccer, baseball or football in college. He aims to attend the Air Force Academy or the Naval Academy. When Mark is not playing sports, he enjoys serving on mission trips, participating in leadership roles for South Jones and hunting.
Mark was asked what motivates him to do his best, he stated, "the love that Jesus Christ has for me. Through this I try to work hard in the classroom and on the field." His goal for the 2019 season is to be a Christian leader and to have fun. He feels it is important to set a positive example for the underclassmen at South Jones. When asked who is someone you look up, Mark respond, "Steven Sasser. He demonstrates a positive Christ attitude, has a good work ethic and an excellent drive on the field. He has encouraged me to be a Christian athlete on the field and Christian student in the classroom."
South Central Sports Medicine presents the 2019-2020 Class of Scholar Athletes. Senior Athletes were selected by Athletic Directors of their respective schools. Athletes were selected based on their leadership on and off the playing field, their attitude of sportsmanship and grade point average. South Central Sports Medicine congratulates each athlete for their dedication to their sport and their school.