Jones County native, Scottie Phillips, is a running back for the Houston Texans of the National Football League (NFL). Prior to playing football in the NFL, he played at South Jones High School, Jones County Junior College and the University of Mississippi. In November of 2021, Scottie was injured from a high ankle sprain and had surgery and therapy in Houston. Following his rehabilitation, Scottie came home to receive additional training and recovery from South Central Sports Performance+.
"When I was in Houston, I gained a little bit of my strength back," said Phillips. "But when I came home, I wanted to get back physically to where I was prior to my injury. I met Spike years ago, and knew I needed to start working with him to build my strength."
Scottie is in his third year of professional football with the Houston Texans.
When asked why he chose South Central Sports Performance+ for training he stated, "The facility is unique to this area. It has everything I need to achieve my personal goals and I am able to build a program with Spike that specifically fits my recovery plan."
South Central Sports Performance+ recently opened a new facility in Laurel.
Derek "Spike" Richards, Sports Performance+ Coordinator, discusses the facility. "When the new facility was built, we knew what our athletes needed. So we did not hold anything back. The center is 6,200 square feet. It is turfed, so we can do full 40-yard sprints inside. We also have weight rooms. They are complete with everything an athlete could possibly need, and actually more. We have space and equipment for stability training, bands, cables, bosu balls and other training equipment that is not found in normal gyms."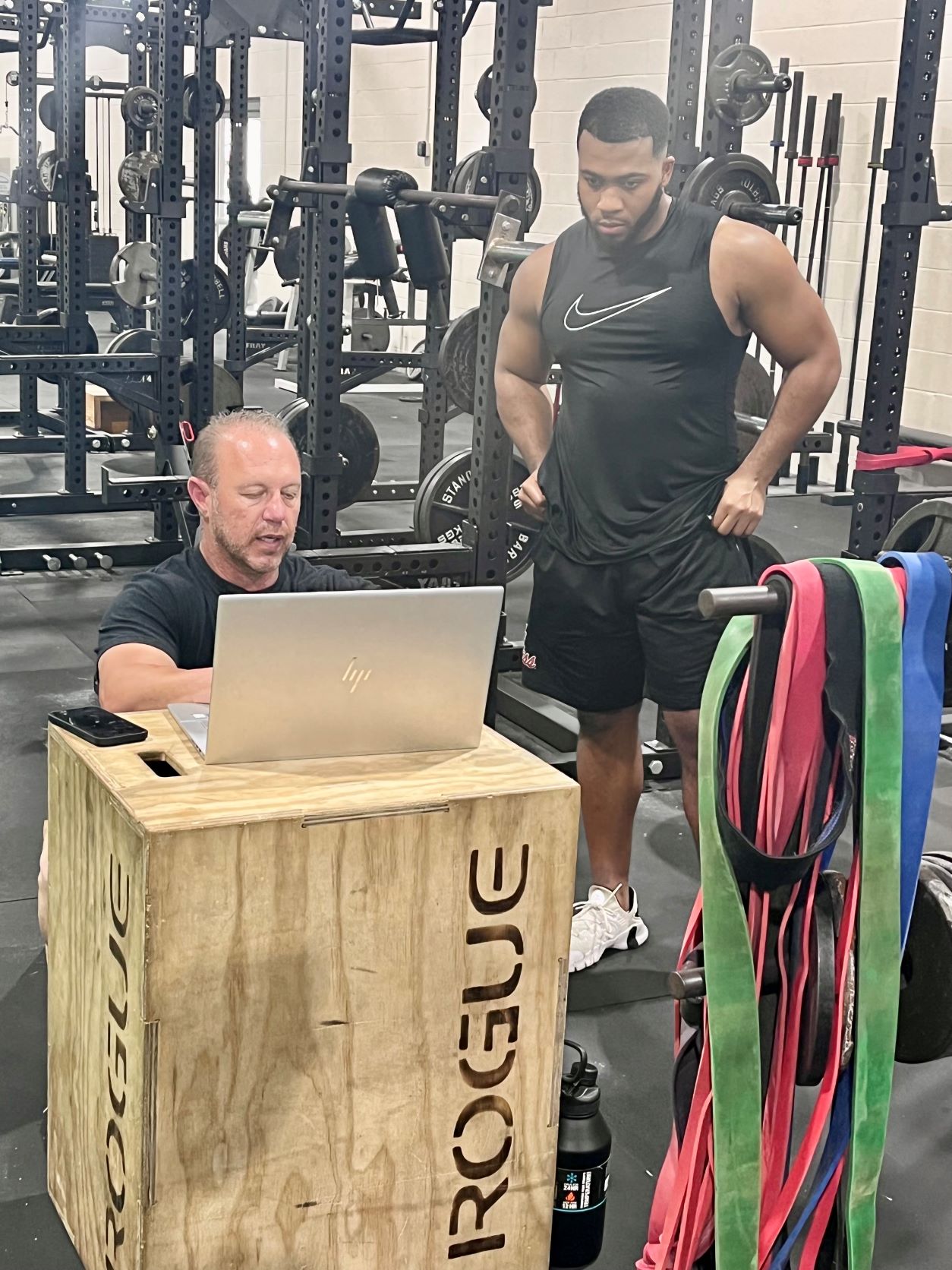 Each individual sport has its own sport specific need, so training received through Sports Performance+ is tailored based on need. Athletes receive an electronic sport specific workout sent to their phone to assist with training. By utilizing a 4 day rotation of training, each aspect is covered. The goal of training is to educate athletes how to be physically prepared for their sport in strength and speed.
"For Scottie, as well as other athletes, we write the training program for the part of the season that they are in," said Richards. "Whether it is an injury, for off-season program, coming out of a season and we are trying to ramp them up into an off-season, or if we are trying to peak them for the season. We work directly with physical therapists and the rehabilitation team to make sure the member or patient is healthy and strong."
When Scottie was asked his favorite part of training at South Central Sports Performance+, he said, "It's great to build strength and endurance, but Spike has really brought my confidence back out. I am going back to Houston in a few weeks and I feel like I am in a good spot. My head is in a good spot. I am comfortable with my leg, and I really thank Spike for getting me to that position."
South Central Sports Performance+ offers a comprehensive range of treatments and wellness programs. Our highly skilled healthcare professionals work with cutting-edge technologies and offer the most modern options available right here at home. Many of our providers have achieved special accreditations and recognitions. At South Central Sports Performance+, our commitment is to help you and your family enjoy optimum health through every stage of life.
To learn more about the program or available classes, call 601-399-0530 ext. 3. South Central Sports Performance+ is now located at 2260 HWY 15 N in Laurel. The facility is on the south end of the South Central Place building.