An injury does not mean it is over. Just ask Kendorean Russell. He was having his best season yet. The stars had seemed to align. It was his senior year at West Jones High School and Kendorean was starting as an outside linebacker and running back for the State Champion Mustangs. He had put in the time and dedication to make the plays and help his team excel again. But things changed on October 15, 2021.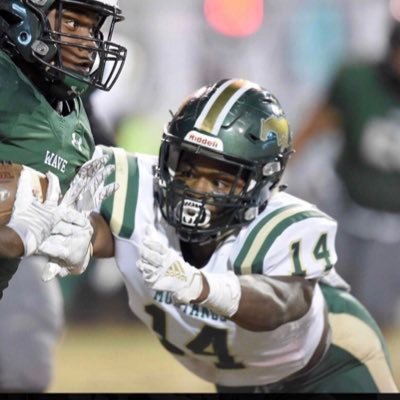 "We were playing Florence High School in Central Mississippi," said Russell. "I went out to make a play I had made a thousand times.  I planted my foot and then I suddenly heard a loud pop.  When you hear a loud pop you pretty much know what it is, you want to think it's something different, but unfortunately it never is. I tore my ACL and Meniscus."
Kendorean suffered a season-ending knee injury.
Derrick Burgess, MD, Orthopedic Surgeon and Sports Medicine Medical Director at SCRMC, explains how the injury can occur. "Tears or ruptures of the anterior cruciate ligament (ACL) have become a serious problem for today's athletes. The most common injured ligaments in the knee are the ACL. Each year approximately 150,000 ACL injuries occur in the United States. During the time of injury, the knee is almost straight and may be associated with valgus (inward) collapse. Often the athlete will in a flat-foot position and the leg is positioned in front or to the side of the trunk."
West Jones Head Football Coach, Scott Pierson, stated to IMPACT News in October of 2021, "We had big loss on the field without Russell," said Pierson. "Russell is probably the best player I've ever coached, and that's why we struggled at times. The team only had one week to prepare because Russell has started every game for us since he's been here. It's a big hole to fill moving forward."
South Central Orthopedics and Sports Medicine met with Russell following the injury to set a game plan for how to repair and recover from the injury.
Kendorean's injury resulted in an orthopedic surgery with Dr. Burgess to repair the damages. Following the surgery, Dr. Burgess ordered physical therapy for Kendorean to help the recovery process. With all surgeries, the rehabilitation portion is a major factor in how the person will ultimately heal. Kendorean set his mind on a goal and with the assistance of South Central Rehabilitation Services in Laurel, he was able to achieve that goal.
Joel Pierce, PT, DPT, ATC, CSCS, explains the role of therapy. "Physical therapy is a crucial part of successful ACL surgery, with exercises beginning immediately after the surgery. Much of the success of ACL reconstructive surgery depends on the patient's dedication to rigorous physical therapy. With new surgical techniques and stronger graft fixation, current physical therapy uses an accelerated course of rehabilitation."
"The recovery process can last up to a year," states Grant Nichols, MPT, KT, Certified DN, Physical Therapist at South Central Rehabilitation Services. "With ACL injuries, the biggest thing is that patient does not want to heal the injury and re-tear the ACL. Timing and rehabilitation is very important."
Physical therapists work on specific strengthening exercises that increase different movement patterns to facilitate pain free movement.
"It's important when you are working to recover from an injury that you trust each other," said Kendorean. "I built a relationship with my therapist and we worked together to set a goal and recover. They push you to be better. It can be tough, but the pain will fade. The goal is still there."
And that goal was ultimately achieved. Kendorean signed a scholarship in the spring of 2022 to continue his football career with Holmes Community College. He graduated from West Jones High School in May of 2022 and was named Most Athletic by his student body.