South Central is pleased to welcome two new, yet familiar faces to the family. Todd Breland and Chuck Everwine have joined South Central Sports Performance+. They will focus on enhancing athletic performance and improving health for kids, youth and adults.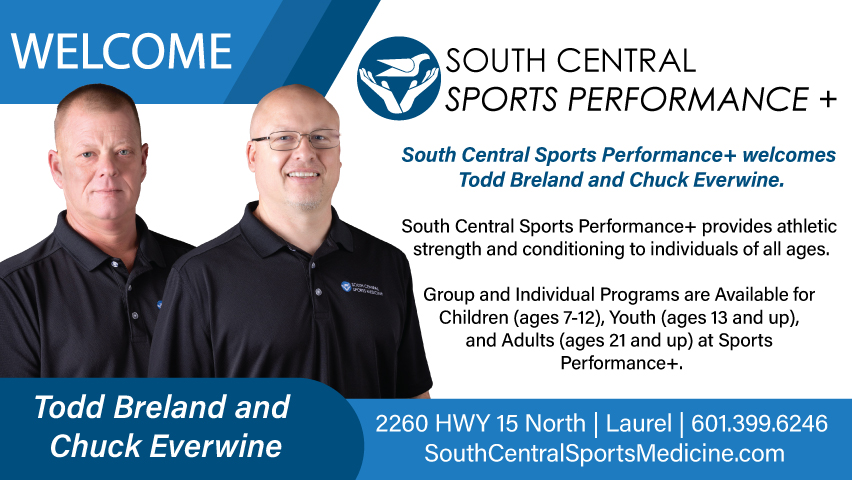 At South Central Sports Performance+ our goal is for the athlete, no matter the age, to excel. Whether it is a 13 year old learning new techniques for a sport or a 50 year old focusing on health maintenance, there is a program available at Sports Performance+. South Central opened a new facility in Laurel in 2022 to provide more training and performance options for athletes. To enhance the program, South Central Sports Performance+ has welcomed two highly experienced and trained athletic coordinators, Todd Breland and Chuck Everwine.
Chuck Everwine Joins Sports Performance+ / Offers Adult Training for Health Maintenance and Improvement
Chuck Everwine previously owned and operated a private fitness facility in Laurel, Everwine Fitness. He is an AFPA certified personal trainer, and was the first Training for Warriors (TFW) certified instructor in Mississippi. Originally from southeastern Pennsylvania, he now resides in Laurel, MS, with his wife, Lara and three kids, Luke, Will and Emily.
Everwine said, "I am a graduate of Liberty University and have a bachelor's degree in Business Management.  I have always had a love for sports and fitness, which led me to a career in personal training. I started in a small gym offering personal training and found there was a need in the community for more group training, so we expanded the business."
Everwine holds a Training for Warriors certification, which is a fitness program originally created for combat athletes. But over time, it was recognized that the training of the TFW system can benefit anyone looking to lose fat, build muscle and feel good. Today, Everwine uses his training and experience at Sports Performance+ to design an individualized approach to develop muscular strength through warmups, speed training, strength training, endurance training, flexibility work and nutrition.
"The great thing about individualized training is that anybody can do it," said Everwine. "We have members in their 20s through their 70s, so it can be achieved, we just implement modifications. The program is a very effective program, and most importantly, it is safe at the same time. Strength training is a big focus, especially as a person ages. It is important for kids and athletes, but it is really important for older people who have bone density issues. We focus on that and offer cardio workouts and high intensity interval training for those focused on weight loss and increased endurance."
Sports Performance+ for adult fitness and maintenance offers an initial intake to assess where the individual is at in their health journey and to determine where they would like to be.  Then we design a plan specific to help that person attain their health and fitness goals. The group classes are geared towards all age groups, and offer a program for anyone no matter where they are physically.
 Todd Breland Joins Sports Performance+ / Offers Specific Athletic Enhancement for Area Athletes
South Central Sports Performance+ is excited to have 28 year coaching veteran, Todd Breland, join the team. Breland has a bachelor's degree in Coaching and Sports Administration and a master's degree in Athletic Administration. Laurel native, Breland, has served many years on the athletic fields at area schools and has stepped away to focus on the other side of athletics. He is married to Rebekah and they have two children, Morgan and Maddox.
Breland states, "From serving in the coaching industry, I understand how important being physically fit is, not just to make you a better athlete, but to also keep you from being injured, keep you safe, and keep you on the field. I have been in many weight rooms in my career and I have seen how much good it can do. I have also seen how much damage it can do if you are not continuously training your body and applying the correct techniques."
The Sports Performance+ programs for athletes are created for their sport specific need. "Whether it is an off-season program, coming out of a season, or if we are trying to have them in peak performance for the season, we focus training for the part of the season that they are in. Our goal is to take an athlete, increase their performance and hand them back to their coach ready to go for the season."
Sports Performance+ aims to offer our community athletes the highest level of safety and performance, as well as a fun environment.
"The foundation is based on strength and conditioning training," says Breland. "In my previous job, kids were introduced to weightlifting in 8th or 9th grade, but having community programs like Sports Performance+ is an opportunity for these players to build their foundation at an earlier age and be ready when they start their sport. Athletics is hard, but our job at Sports Performance+ is to make it fun and enjoyable. I enjoy the relationships I am able to build with these athletes and their parents."
When Everwine and Breland were asked what makes the Sports Performance+ program different from others in the area, they stated, "We both have different backgrounds of fitness training. We are able to pick each other's brains to come up with new and different ideas to achieve specific goals."
The South Central Sports Medicine program offers certified athletic trainers who make weekly visits to local high schools to consult with coaches and evaluate athletes.  We assist with addressing acute injuries and accessing medical care promptly if needed.  We provide guidance and assistance for a safe return to sports at an optimal performance level.
Breland states, "It is a priority for us to work with area coaches and make sure our program is on the same page as their program and give the athlete specifically what their program needs. As a coaching veteran, I understand the mentality of a coach, their needs and their limitations. We are already in communication with coaches, but we want to give extra on top of what they are already receiving. We hear from coaches, 'how can we offer more than what they have now?' and this is what we will focus on for each athlete that enters our facility."
The new Sports Performance+ facility was built with athletes in mind. The center is 6,200 square feet and turfed to offer full 40-yard sprints. Sports Performance+ also has weight rooms, equipment for stability training, bands, cables, bosu balls and other training equipment that is not found in normal gyms.
The unique and beneficial aspect of this program is that there is constant communication between the healthcare providers, therapists and trainers. Breland states, "If we are rehabbing an athlete, we always have conversations going on between the doctors, the physical therapists and myself as far as how far along the patient is, when are they going to be ready and when do we have to have them ready. The athletic trainers and I spend a lot of time talking to each coach about where their athlete is in the recovery process."
SportsPerformance+ Junior Program / Athletic Development for Beginner Athletes
Sports Performance+ has also developed a program for beginner athletes, SportsPerformance+ Junior. This program is offered to kids ages 7-12. The program is utilized to teach proper exercise techniques, improve coordination, flexibility training, cardio exercises and more. The SportsPerformance+ Junior instructor will be there every step of the way to teach proper technique for exercises designed specifically for them.
Everwine states, "It is important to build the fundamental groundwork of athletics. Kids are able to participate in this program 3 days a week at Sports Performance+. They are exposed to equipment, training programs and also get to see older athletes train. The program helps build confidence in the kid and in their athletic ability."
Sports Performance+
South Central Sports Performance+ is proud to be a resource to help you enhance youth and adult fitness in our community. From entry level athletes to those who are working on specific skill sets, our programs are tailored to improve performance and safety. Any athlete who is well-trained will perform their sport better than an athlete who simply just shows up to play the sport.
The facility includes training areas, indoor turf, on-site physical therapists, locker rooms with showers and restrooms. Members of Sports Performance+ have full access to South Central Wellness Center, located at 1002 Jefferson Street in Laurel. To learn more about the program or available classes, call 601-399-6246 or visit SouthCentralSportsMedicine.com. South Central Sports Performance+ is now located at 2260 HWY 15 N in Laurel. The facility is on the south end of the South Central Place building.